Zygomatic Implant Surgery in the Lehigh Valley
Get new teeth faster with Zygomatic Implant surgery in Allentown, Bethlehem, Lehighton, or Quakertown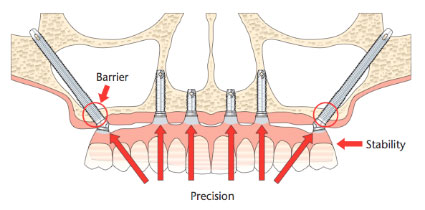 Play the above video to see a zygomatic implant procedure performed by Robert Laski, DMD, of Valley Oral Surgery.
Have you been told that you do not have enough bone for dental implants? If so, then zygomatic implants might be for you.
Traditionally, if you do not have sufficient bone in your upper jaw, the only option was to perform bone grafting procedures to regenerate and/or rebuild enough bone to create a sufficient foundation for traditional dental implants. These type of bone grafting procedures were performed and then followed by a healing time of several months prior to the placement of conventional dental implants.
Now there is a revolutionary dental implant technique that eliminates the need for bone grafting all together.
Zygomatic implants are a graftless dental implant technique where the implant is directly imbedded into the lower part of the cheek bone, where there is enough bone support for the implants. These implants are specially designed longer implants. With zygomatic implants, the healing time is much faster and the total treatment time is reduced significantly.
Typically, dental implant placement is complicated in the back part of the upper jaw because of the proximity of the air sinuses. Bone loss occurs more rapidly here when teeth are missing and the presence of the air sinus cavity creates an obstacle. In the past, in addition to bone grafting, a patient might typically have a sinus lift procedure performed as well prior to the placement of the dental implants.
The development of the zygomatic implant presents a unique alternative for patients who wish to avoid bone grafting, sinus lifts, and still get dental implants. Since these implants can be placed in areas with only one surgical procedure, this eliminates the need for grafting and reduces the need for multiple procedures.
If you are not satisfied with your removable upper denture, it is worth considering zygomatic implants as an option. With the use of these revolutionary implants, you are able to return to a normal function and a beautiful smile.
Valley Oral Surgery is the only practice in the area to offer this specialized treatment. All the surgeons have been trained extensively in the use of this treatment modality.